Layanan Check Broken Link Gratis- Seperti kita ketahui bersama bahwa broken link yang terdapat pada website jelas akan sangat memperburuk SEO blog kita. Kalau blog Anda wordpress tentunya tidak perlu repot harus menggunakan layanan gratis dari brokenlinkcheck.com karena wordpress telah memiliki plugin tangguh yang bisa anda terapkan dan bisa dimiliki secara gratis dengan langsung seach di dashboard plugin wordpress Anda dari wp-admin. Untuk Plugin ini sudah pernah saya reviews dan bisa dibaca di artikel Mengatasi Link Rusak Pada Blog WordPress dengan Broken Link Checker Plugin.
Hal lain yang terkena dampak langsung dari adanya broken link adalah peringkat Anda di search engine. Google sangat tidak menyukai broken link, dan link tersebut akan dianggap kurang relevan sehingga tidak akan ditampilkan di halaman pertama atau kedua. Begitu juga dengan search engine lain seperti Yahoo! dan Bing.
Maka dari itu diperlukan tool untuk mengecek apakah di alamat Anda terdapat broken link baik link internal maupun eksternal. Backlinkcheck.com hadir sebagai tools yang menawarkan selain pengecekan link internal maupun eksternal juga memberikan posisi html di mana link tersebut berada. Sehingga Anda dengan mudah untuk menemukan broken link dan menghapusnya.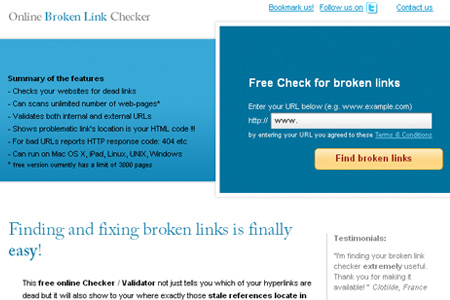 Beberapa kelebihan backlinkcheck.com yang ditawarkan antara lain:
Scans webpages for bad hyperlinks
Analyses unlimited number of pages
Useful for SEO optimization
Checks both internal and external URLs and finds which are stale
Reports dead link's location in your HTML code
Supports sub-domains
Validates web-sites online: the same way as how your users and Search Engines see those
Detects "linkrot" and other problems of web site integrity
Works on-line so can be used on Mac OSX, Linux, Windows and any other OS
Shows 404 errors and other unsuccessful HTTP response codes – for each dead and/or problematic hyperlink!
Ayo…Tunggu apalagi silahkan coba layanan gratis ini dan di alamat brokenlinkcheck.com. Untuk mengecek broken link yang ada di blog Anda. Dan tentunya website ini sangat membantu Anda mengatasi broken link. Semoga Layanan Check Broken Link Gratis bermanfaat buat sobat blogger semuanya.